Fun Every Day!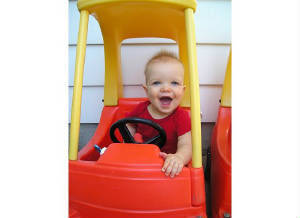 A Wide Variety of Activities
We do a variety of art work and crafts. Even the older infants are involved with painting and sensory activities. These activities teach creativity, which helps a child in all aspects of his/her life.
Lots of age appropriate toys inside and out. Large outside play area includes a sandbox, playset, and ride-on toys.
Games for all ages promote fun and learning.
Music is incorporated daily. Children's music, interactive songs, dancing, age appropriate musical toys get even our youngest friends involved.
We read EVERY day! I have a large collection of children's books including a special book nook for children to spend their time looking though our "library."